It was in 1968 when the first English Text to Speech (TTS) system was introduced, proving a game-changer in the way people access the Internet. Since then, they have been serving as the cornerstone of online access. People rely on text-to-speech tools to solve reading difficulties, do multitask, or simply improve their foreign language listening skills.
As a matter of fact, having an article or paragraph spoken out loud is such a piece of cake with the help of dozens of text-to-speech Chrome extensions. However, picking the right one for your personal needs as well as your organization's demands is never a breeze.
A feature-rich, sleek, and easy-to-use text to speech Chrome extension plays a crucial role in converting your written content into voice. In this article, we'll bring in the 7 best text to speech tools with the core features.
But before digging into the details, let's discuss some outstanding benefits of a text-to-speech Chrome extension.
Why Use a Text to Speech Chrome Extension?
A text-to-speech (TTS) Chrome extension refers to software that uses artificial intelligence (AI) to transfer written text from web pages or Google docs to voice within seconds. You can add this tool to your Chrome browser so it can help read text while surfing the Internet.
There are several advantages of a TTS extension that motivate you to install one for your Chrome. First and foremost, it serves people with reading disabilities, aka "dyslexia". The tool gives them a helping hand in understanding every piece of text without having to struggle with reading disorders.
Plus, a text to speech Chrome extension saves you a lot of time going over an article/document compared to reading by sight alone, around 2 to 3 times faster.
Foreign language learners give TTS tools a lot of love due to their convenience in passive learning and multitasking capabilities. Students are able to listen while following a book so they can improve both skills at a time.
TTS software greatly assists editors in speeding up the editing process. Instead of re-read the content, why don't you hear and catch the error to fix it right away? Not only can you improve your writing but you will also remember the mistakes longer.
#1 Natural Reader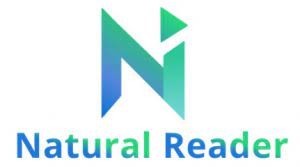 Natural Reader comes as an intelligent extension to convert any text type into voice. The tool supports webpages, Google Docs, emails, PDFs, and any e-learning materials such as Doc(x), PPT(x), or non-DRM epub files. It's possible for you to adjust the voice and speed of the sound too.
There are 3 different reading options to choose from, including clicking the Read button, selecting and clicking read, and using hotkeys. You can press the keyboard shortcuts Option + R if using Windows or Alt + R for Mac users.
Natural Reader stands out from the crowd thanks to its automatic text detection capacity. In other words, the tool will collect only relevant text from web pages to read out. You no longer have to get annoyed by ads or menu text.
Pricing: Apart from the free Chrome extension, Natural Reader offers 2 upgrade options which are the Pro plan ($5 monthly) and the Premium plan ($10 monthly).
#2 Speechify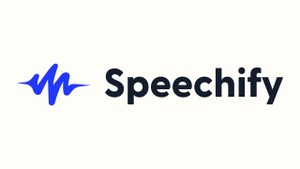 It would be a huge missing out without mentioning Speechify. Trusted by over a million users and receiving more than 6,000 good reviews, Speechify proves one of the most popular text-to-speech Chrome extensions so far.
Similar to Natural Reader, this tool integrates seamlessly with Google Docs and other platforms to read the text there. You can listen to webpages, emails, and documents anywhere at any time. since Speechify uses AI readers, the output sound would be as natural as possible.
You're allowed to play, pause, and adjust the voice or speed without any hassle. You'll experience a thrill of speed, reaching up to 9 times faster than the average reading speed. The active text highlighting feature empowers you to understand the content better by highlighting important sentences and words.
Speechify comes in handy to read aloud your paper book. All you need to do is take a photo of a page in your book, upload it, and let the tool handle the rest.
Looking for a text solution for multiple operating systems? Speechify got you covered. It's available on Mac OS, Android, and iOS. While almost other tools support English only, Speechify can read more than 60 languages. Sounds powerful, doesn't it?
Pricing: Upgrade to Speechify Premium version and access the full power through your reading at $139. Over 30 human-like voices, 15+ exclusive languages, advanced highlighting, notetaking, and importing tools are all available in this package.
#3 Capti Voice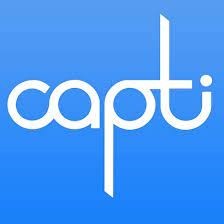 Unlike other text to speech Chrome extensions, Capti Voice majorly takes care of translating from text to voice for educational institutions.
The software is a combination of 4 different solutions, including Capti Accommodate – a reading tool for students, Capti Assess to inform instruction & intervention, Capti Higher Ed for college students, faculty, and staff, and Capti Personal for individual uses.
The extension sets itself apart from competitors thanks to the ability to save articles for later listening. For a better explanation, when you have an interesting post you want to hear but don't have time, just store it via the Alt + A shortcut keys. The tool will extract relevant content only so you can go to the web app to listen to it later. Capti Voice enables you to create a playlist for these saved articles as well.
It provides high-quality and natural-sounding audio for more than 100 languages. Simply select your desired text section and hit the Play icon.
Capti Voice works compatibly with various educational platforms, ranging from Clever to Canvas, Schoology, Google Classroom, and Back Board. A lot of educational institutions put their trust in this text to speech Chrome extension. Hyde Park Day School, Eastern University, Williamson Central School, and South Western University, just to name a few.
Pricing: It doesn't take individuals anything to start using Capti Voice. However, education organizations must pay at least $300 per year for a multi-license account for K-12 and Higher Ed.
#4 Read Aloud Text to Speech Chrome Extension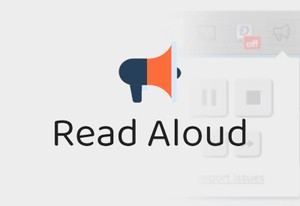 Another useful tool to turn written text into audio is Read Aloud. It supports a wide range of websites, from news to blogs, textbooks, class websites, and even online university course materials. What's more, the extension can read PDFs, Google Docs, Google Play books, and Amazon Kindle.
It's worth mentioning the tool's ability to choose a preferable voice among native ones of your browser or from cloud service providers such as Google Wavenet, Amazon Polly, IBM Watson, and Microsoft.
It's straightforward to use Read Aloud. Click the extension's icon on your Chrome menu or you can use shortcut keys. Press ALT-P, ALT-O, ALT-Comma, and ALT-Period combinations to play/pause, stop, rewind, and forward. Just simple actions and you're ready to get started with the tool.
There is an Options page for you to modify the voice, and reading speed, as well as highlight the text.
Pricing: It costs nothing to install Read Aloud. Since it comes as open-source software, contributions are available on GitHub.
#5 Snap&Read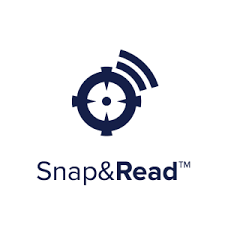 Snap&Read is well thought out to convert any text type into a podcast, not only webpages and Google Docs but also images and scanned documents. If you want to enable voice on an article, hit the speaker icon on the sidebar and select your text. In case you wish to listen to the text of images, click the Rectangular Selection icon.
Snap&Read receives a great deal of public attention thanks to the capability to translate English text into more than 40 other languages. The software delivers an ideal listening experience by eliminating all distractions, for example, ads and menus.
Aside from Google Docs, news websites, and social platforms, it works great with Kindle Cloudreader, Bookshare, Quizlet, Moodle, Blackboard, and Evernote.
Pricing: You need to pay only $4 per month to access the Snap&Read premium version.
#6 Readme

Readme packs enough power to get nearly everything you want to be done in terms of a text to speech Chrome extension. Working in over 40 languages, the tool assists you in reading out loud your text so you can hear paper, find errors, and do multitask.
It's employed to convert specific text on a page into voice rather than the whole webpage. You're free to customize speed, pitch, and volume as easy as pie.
Pricing: Without a premium version, Readme is and has been always free for users to install, like any other Chrome extension. Frankly, you have to accept some limitations in features, compared to previous tools.
#7 Intelligent Speaker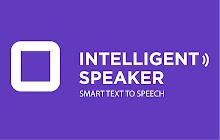 Last but not least, Intelligent Speaker turns out to be a simple yet text to speech Chrome extension. It helps increase your productivity by reading text online and on local files as well, ranging from articles and news to Google Docs.
Using artificial intelligence, Intelligent Speaker ensures smart text recognition with a natural and human-like voice.
Although the tool can read the text in about 20 languages, it offers a cool feature of breathing, making the sound more natural.
Downloading audio files has never been easier with Intelligent Speaker. It also works smoothly without an Internet connection.
Changing the speed range? It's at your fingertips.
Pricing: Intelligent Speaker allows you to listen to the text for free in only one hour. You need to pay $6.99 monthly for the Premium package to use it for 24 hours per month. A yearly subscription will cost you $69.99.
Which Is Your Preferable Text to Speech Chrome Extension?
A text to speech Chrome extension brings a new way of being efficient in studying and learning. It gives you the power to open up the world of information without reading difficulties, save time, and boost productivity.
There are a plethora of solutions, and each comes with a set of benefits and drawbacks. If you want an extension that supports many languages, Capti Voice would be a smart pick. Prefer a totally free solution? The Readme extension should be your way to go.
What is your preference? Share with us your choice as well as the reason now!